The Lookout was originally in The School until an unknown update that changed the small place where players could hang out together into a complete new location. Not only that but, the Green House and the Farm were switch from The School to the Lookout.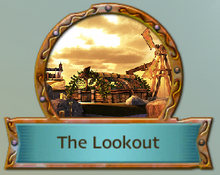 The Lookout is a large, high grounded place, filled with large mountainous cliffs (with Tunnels inside), surrounded by large cliffs and a Freshwater lake.
Before the unknown update, the Lookout was called "The School Lookout" and, it was a high grounded, mountainous plateau, with a waterfall. It was also must wider unlike today's.
Old Description:
"The School Lookout can be easily be accessed by walking behind the greenhouse behind the botanist and walking up the rock ramps that follow. It is also the place where you will be able to find Astrid. She is needed for a couple of quests. You can go higher than Astrid by following the 2 remaining flights of ramp behind her. You will need to get to the top for 2 other quests involving rocks and a thermometer."
Ways to Access
Edit
Characters
Edit
Fishing Spots
Edit
There's 2 Freshwater spots for fishing.