You've finally found what the Krayfin was looking for
| | |
| --- | --- |
| | !: "This flower... Is this what the Luminous Krayfin been searching for all along? You should take a closer look." |
1- Take a closer look at the flower
| | |
| --- | --- |
| | !: "What a unique looking flower... Why did the baby Krayfin want to come to this room, and what makes this flower special? You should look in the room for hints to its importance." |
2- Explore the room for further clues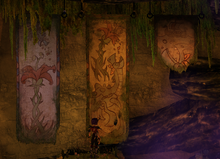 | | |
| --- | --- |
| | !: "Wow! perhaps the dragon needs the fruit of this flower to grow into being a giant leviathan, like the Bewilderbeast! There's only one way to test the hypothesis! You should look for some of its fruit nearby." |
3- Look for the fruit that resembles the carving
| | |
| --- | --- |
| | !: "You should give the fruit to the Krayfin and observe how he reacts." |
4- Feed the Krayfin the fruit
!: "Now that the fruits have been cracked open, the smell is getting worse and worse. You need to get out of here. You should go back to the watery tunnel where you entered the room.

How would you convince the Krayfin to go back and help operate the oxygen machine? You would never make it all the way through without the help. Perhaps there is another way out of here."
5- Look for another way out of here
| | |
| --- | --- |
| | !: "You can see the gratitude in the Krayfin's eyes. You've really helped him out... and you've helped him reach his destiny." |
Ad blocker interference detected!
Wikia is a free-to-use site that makes money from advertising. We have a modified experience for viewers using ad blockers

Wikia is not accessible if you've made further modifications. Remove the custom ad blocker rule(s) and the page will load as expected.