The Shield is an item that can be purchased from the Store and purchased with coins.
The Shield was added in an unknown date and version, and it serves as a small accessory to show your Clan. You can color the paint with one single color and buy as many as you want. When you're in a Clan, the center of the shield will change into the Clan's icon.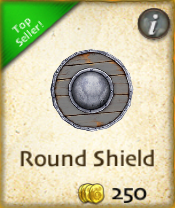 Ad blocker interference detected!
Wikia is a free-to-use site that makes money from advertising. We have a modified experience for viewers using ad blockers

Wikia is not accessible if you've made further modifications. Remove the custom ad blocker rule(s) and the page will load as expected.