Since being added to the game on v5.0 10th of October, 2013, the daily log-in rewards have been given out once per 24 hour period and are unique to when a player last collected a prize rather than resetting at midnight PST. New players will receive their first log-in reward for their first log-in that is at least 24 hours after they created their account. It is currently unknown if players need to achieve their first dragon and hatch their second dragon before they are able to receive log-in rewards.
In order to continue the chain of prizes, players will need to log-in within 48 hours of receiving their last prize, although it is believed by some users that this time limit may actually be as long as 36 hours. If a player misses a day, they will be reset to the day 1 prize the next time they log-in. In order to collect prizes, players must log-in; stay continuously logged-in will not award a prize.
In addition to awarding the prizes themselves, the daily log-in rewards panel also includes a section for current happenings (or, if there are no current happenings, Trader Johann will advertise one of his new items) and Ruff & Tuff's Cool Stuff, which features the newest on-sale or just-released item.
The Rewards
Edit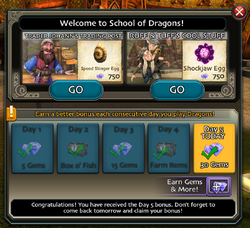 Players can collect log-in rewards for one Viking on their profile.
Additional reward
Edit
With version 2.12.0, it is now possible to watch an advertisement video once a day to receive 5

. The offer appears on the bottom part of the daily log-in window.
The limit is one video a day, and as the general log-in reward, it's not repeated in the different Vikings under one same account.
Box o' Fish
Edit
The Box o' Fish (or Mysterious Fish Ticket, as it's also known as) awards players one random fish from the game's original six fish species: Perch, Brown Trout, Eel, Halibut, Herring, and Salmon.
Power Ups
Edit
Mysterious Powerup Tickets (not to be confused with the similarly-named Mystery Box of Powerups Ticket) will award players one of the following items: Deadly Nadder Spikes Booster, Terrible Terrors Booster, Speed Boost, Smart Bomb, or Yaknog. Unlike other mystery chests, the Mysterious Powerup Tickets only displays one row of five tiles, instead of two rows of five.
Farm Items
Edit
Also known as the Mysterious Farm Decoration Ticket, this item awards one farm decoration. Of particular note, players can win Composters from this item, rather than needing to pay gems for it or pay coins for the UDT version of the Composter.
Daily log-in rewards were added on 10/10/13 as part of version 5.0 and have existed in their current form since sometime on or before 8/16/14. Prior to that date, rewards included sunflower seeds on the 3rd day, fishing bait on the 4th day, and 5 gems on the 5th day. Coins were also given out as a log-in reward, although it is currently unknown what day of the cycle they were awarded on.

On
4/22/15
, gem rewards were temporarily doubled in apology for a rash of glitches, allowing players to collect up to 80 gems per five day cycle. This change lasted until an unknown date on or before
6/24/15
.

From 9/4/15 to 9/9/15, the game ran a limited-time-offer where players could receive 40 gems for logging into the game. The promotion was meant to be available each of the five days it ran for, with players capable of receiving up to 200 gems if they logged in each day of the event. Unfortunately, many players reported getting only four days worth of the offer
Log-in rewards were once vailable for each Viking in a player account, thus being an alternative way to earn gems in the game, if a player was dedicated to purchase and log in on several Vikings each day. This changed around early September 2017, and now the player will receive just 1 reward a day, no matter the number of Vikings of that account.
On May 30th 2018, the ads option to earn 5 gems a day was added, as part of version 2.12.0