School of Dragons
School of Dragons is a virtual MMORPG game produced by JumpStart Games based on DreamWorks' hit movies How to Train Your Dragon and How to Train Your Dragon 2. Released on July 17, 2013, School of Dragons holds a world full of creativity and exploration packed with bountiful quests and adventures that enables players to raise, bond with, and train their dragons. They can fly through vast lands with their dragons, race them against other competitors, or dive into a science-filled world where there is always more to be discovered! Featuring the most advanced online and mobile gaming technology, School of Dragons delivers immersive, fun 3D adventure learning games for kids on the devices they use most in environments that parents have come to trust.
New Features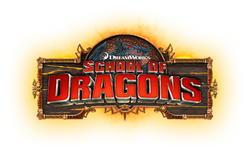 Are you a new player? Go to the
School of Dragon
introductory page to learn more about the game.
If you've only just creating your Viking or if you are still considering if you want to join the game at all, go check the School of Dragons page.
The game currencies and how to earn them: Coins and Gems
What you can buy with your currency: Store
Expanding Pages
This wiki still needs expansion and improvement, check How to Contribute to know hwo you can help growing the Wiki!
Contacting the Official Admins
Please note that this ISN'T an Official Wikia made by the School of Dragons' Admins and Developers, this is just a fanmade wikia made by people that play the game. There's no interaction between us and the Developers, nor any of SoD' Developers and Admins involved.
If you want to contact the official admins please check the page Contacting the game developers.
Dragons
There are currently over 50 dragon species (without counting the non-trainable dragon in-game: Green Death) in the game to hatch, raise, and train. Toothless the Night Fury is only available to members who buy a membership of three months or longer and is only usable while a player's membership is active.
A full list of dragons can be found here and a comparison of their stats is located here.
Taking care of your dragon: check the Dragons general information to learn about energy and happiness bar, how to pet your dragon and how to feed it.
Guides
Learn more about key features of the game:
Quest List: a complete list of core quests, with instructions
Stable Missions: requirements, success odds by dragon species, and reward information
Other minigames: