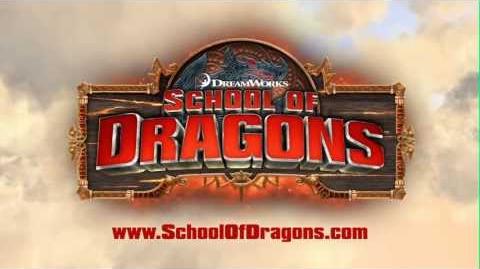 School of Dragons
School of Dragons is a virtual MMORPG game produced by JumpStart Games based on DreamWorks' hit movies How to Train Your Dragon and How to Train Your Dragon 2. Released on July 17, 2013, School of Dragons holds a world full of creativity and exploration packed with bountiful quests and adventures that enables players to raise, bond with, and train their dragons. They can fly through vast lands with their dragons, race them against other competitors, or dive into a science-filled world where there is always more to be discovered! Featuring the most advanced online and mobile gaming technology, School of Dragons delivers immersive, fun 3D adventure learning games for kids on the devices they use most in environments that parents have come to trust.
New Features
Are you a new player? Go to the
School of Dragon
introductory page to learn more about the game.
If you've only just creating your Viking or if you are still considering if you want to join the game at all, go check the Choosing Your Dragon page.
Know which characters are in game: Characters and the different places you can explore in game: Locations
The game currencies and how to earn them: Coins and Gems
What you can buy with your currency: Store
The Expansion packs available in game.
Expanding Pages
There are many other pages that need to be expanded and to be completed:
For pages without all the neeeded images, go here;
For pages without all the information needed, go here;
To see all the pages that need information and/or images, go here.
Note and Contacting the Official Admins
Please note that this ISN'T an Official Wikia made by the School of Dragons' Admins and Developers, this is just a fanmade wikia made by people that play the game. There's no interaction between us and the Developers, nor any of SoD' Developers and Admins involved.
If you want to contact the official admins to report any glitches or get general help, go either to:
Their official School of Dragons' Facebook;
Their Support Email in their Contact Page;
Their School of Dragons' Forum Profile:

There's six Admins: Brush, Brunhilde, Brynjolf, Siren, Snod the Sneak, and Hyuckster
Brynjolf and Siren are the most active ones of them all. The best way to contact them is at Weekends however, they won't be active if there's an Holiday Break happening even if it's a Weekend;
Please understand that one thing is an Admin/Administrator and another thing is a Developer.
Admin is someone that takes care of a forum (in this case, they take care of both the Facebook page and the Forum) but, can't do anything in the game itself;

While they do answer users' posts about the glitches happening in their games, it's their duty and priority to answer users with problems, so that they can contact the developers about it but, since the Admins can't touch the games' codes and don't even have that priority, all they can do is hope the glitch is fixed and continue to answer people with problems. They will also check if you did the basics to remove the simple gltiches (like, clear the cache and the browse's cache);

Developer is someone that takes care of the programming and coding of the game;

When the Admins finished contacting an user with glitches, it's the Developers' duty and priority to take care of the glitch and remove it. However, every glitch that gets fixed, there will be always more so, the Developers will try and make sure that they fix all the severe and problematic gltiches to avoid severe problems and/or corruption.
So, when contacting the Admins, please be ware that the glitch/es will take a while to be fixed and the Admins aren't the ones fixing it, with that said, don't act like they can fix everything (specially in an aggressive way, the best way to speak to them is by being formal, calm and collective; avoid using inappropiate terms).
Dragons
There are currently over 50 dragon species (without counting the non-trainable dragon in-game: Green Death) in the game to hatch, raise, and train. Toothless the Night Fury is only available to members who buy a membership of three months or longer and is only usable while a player's membership is active.
A full list of dragons can be found here and a comparison of their stats is located here.
Taking care of your dragon: check the Dragons general information to learn about energy and happiness bar, how to pet your dragon and how to feed it.
Guides
Learn more about key features of the game:
Other minigames:
Ad blocker interference detected!
Wikia is a free-to-use site that makes money from advertising. We have a modified experience for viewers using ad blockers

Wikia is not accessible if you've made further modifications. Remove the custom ad blocker rule(s) and the page will load as expected.