Dragon's Edge or Outpost Island is one of the eight islands of Battle for the Edge expansion pack.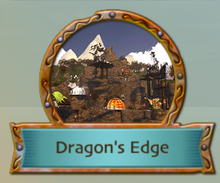 It can be accessed by all players, without the need of the purchase of the expansion or membership.
Modeled after the island featured in the "Dragons: Race to the Edge" series, it is the base for the adventures of Hiccup and friends.
Characters present on the Island
Edit
Fishing spots
Edit
There is one freshwater fishing spot in the small lake on the island, and one saltwater fishing spot along the shore. This latter is famous for its "sand fish".